Machine à haute fréquence de gravure de logo

Les produits courants fabriqués avec la méthode de soudage HF sont les bâches, les tentes, les plafonds, les banderoles publicitaires extérieures, les lits à eau, les canots pneumatiques, les égouttoirs et les poches à sang, les structures tendues, les tapis roulants, les vêtements imperméables, etc.
Le matériau le plus commun dans le soudage à haute fréquence en PVC (quelque chose appelé simplement vinyle) et PU (polyuréthane). Le matériau peut être épais ou mince, renforcé ou enduit. Il peut également être uni, coloré ou structuré / structuré. Polyvinylchlorde (PVC) et polyuréthanes (PU) sont les thermoplastiques les plus communs qui sont soudés par HF aussi il est possible d'effectuer des soudures HF sur d'autres types de matériaux, y compris PA, ABS, TOP modifié, PETG, mais une attention particulière devrait être accordée sur les paramètres de travail. Le soudage HF ne convient pas pour le PTFE, le polycarbonate, le polystyrène, le polyéthylène ou le polypropylène. Cependant, un type spécial de tissus mélangés a été produit récemment, qui a la capacité d'être soudé en HF.
Spécification:
Model

CH-5KW-STYY

CH-8KW-STYY

Output Power

5000W

8000W

Voltage

220V/380V 3P 50/60HZ

Input Power

8KVA

10KVA

Oscillation Frequency

27.12MHZ

27.12MHZ

Oscillation Tube

7T85RB

7T69RB

Anti-Spark System

NL-5557

NL-5557

Max Pressure

800KG

800KG

Gap of Electrode

160MM

160MM

Size of Mould Holder

160*310MM

160*310MM

Working Table Size

350*700MM

350*700MM

Machine Size

2150*1220*1550MM

Machine Weight

500KG

550KG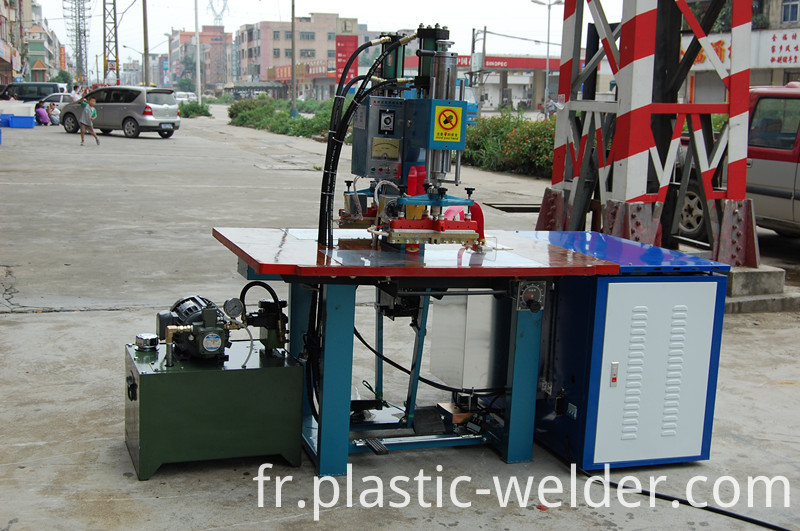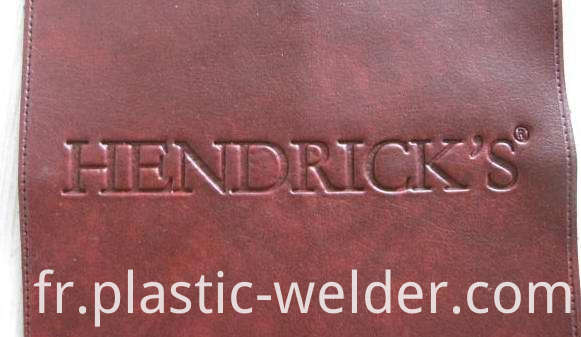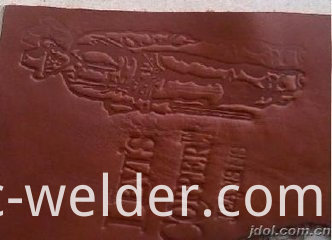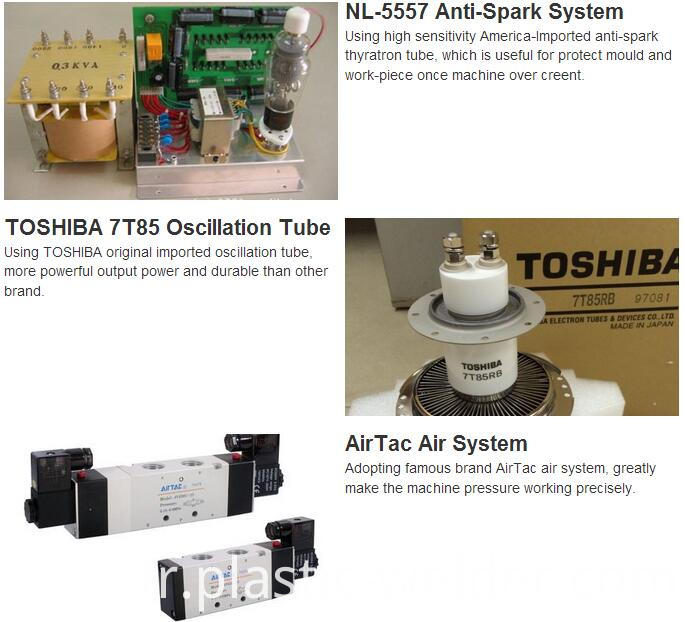 Machine à haute fréquence de gravure de logo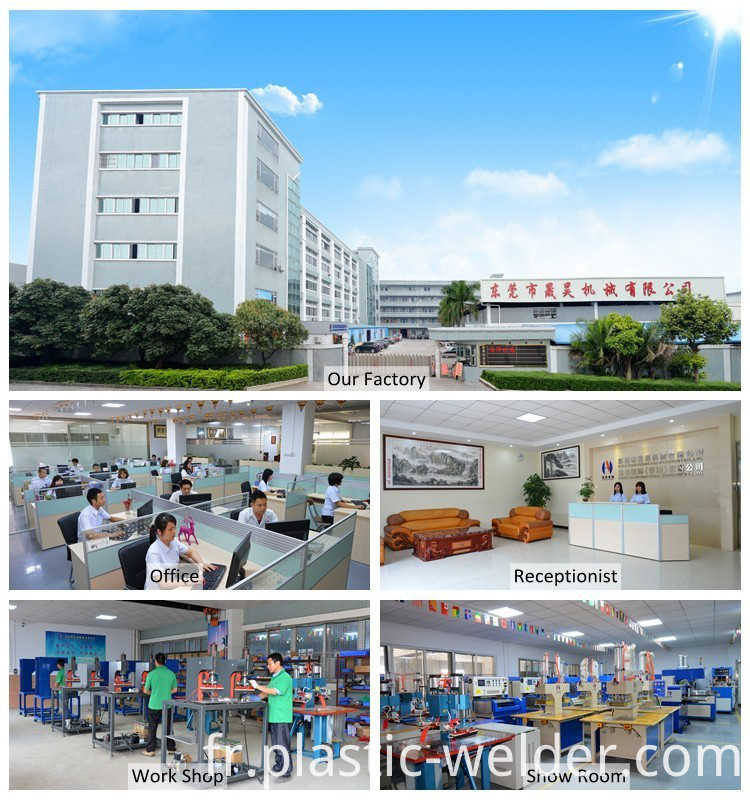 Machine à haute fréquence de gravure de logo

Certificat: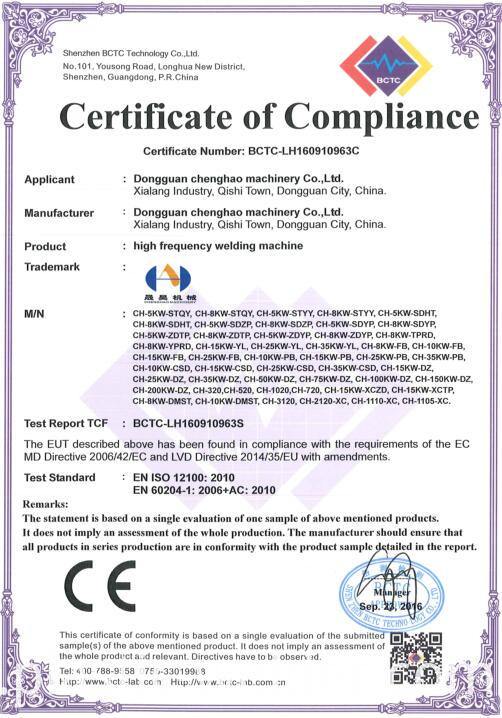 Machine à haute fréquence de gravure de logo
Service des douanes
Services de pré-vente:
1. Fournir un soutien technique professionnel.
2. Envoyez le catalogue de produits et le manuel d'instructions.
3. Si vous avez des questions PLS contactez-nous en ligne ou envoyez-nous un courriel, nous promettons que nous allons vous donner une réponse à la première fois!
4. Appel personnel ou visite sont les bienvenus.
Vente de services:
1. Nous promettons honnête et juste, c'est notre plaisir de vous servir en tant que votre consultant d'achat.
2. Nous garantissons la ponctualité, la qualité et les quantités appliquent strictement les termes du contrat.
Service après-vente:
1. Où acheter nos produits pour la garantie d'un an et la longue vie entretien.
2. Service téléphonique 24 heures.
3. Un stock important de composants et de pièces, pièces facilement usables
Machine à haute fréquence de gravure de logo

Contact: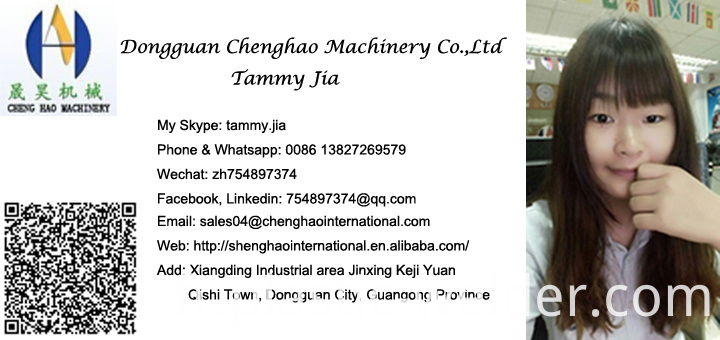 Groupes de Produits : Machine à souder à haute fréquence > Machine à gaufrage haute fréquence